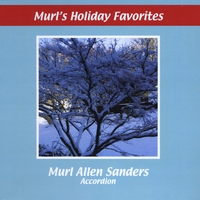 CDBaby.com       iTunes     1-800-BUY-MY-CD
1  The First Noel   mp3      
2  Masters In this Hall   mp3      
3  White Christmas    
4  Angels We Have Heard on High    
5  Lo, How a Rose E'er Blooming   
6  The Holly and the Ivy
7  Silver Bells   mp3      
8  God Rest Ye Merry, Gentlemen
9  Santa Baby   mp3      
10 Santa Clause Is Coming to Town
11 Rudolph the Red-Nosed Reindeer   mp3      
12 Greensleeves
Murl Allen Sanders, accordion, piano, and arrangements  
Garrett Smith, bass
Chris Leighton, drums
Terry Lauber, guitar, pedal steel

Recorded August 2009.
Engineers: Terry Lauber and Murl Allen Sanders
Mixed and Mastered by: Terry Lauber and Murl Allen Sanders
Band tracks recorded at Phinney Ridge Productions, Seattle, Washington.
Murl Allen Sanders plays Petosa Accordions.

Special thanks to: Janet Hesslein, Karen Howe, Laura Hesslein, Milton Hesslein and Gloria Halster, Peter and Jan Hesslein, Annie and Aaron Keating, Michael and Marilyn, the Bob extended family, Terry Lauber, Garrett Smith, Chris Leighton, Joe Petosa, Bonnie Birch, Jim Tobler, Ken Olendorf, Geoff and Joyce Levear, Doris Osgood, Cooksie Kramer and everyone at the Northwest Accordion Society, Beverly Gilyeart, all my students and accordion fans across the globe.